Grammarly is widely known as the best grammar checker software in the market for improving the grammar structure of casual, educational, and professional writing.
On deep insights, Grammarly works flawlessly on both free as well as in its premium subscription.
As the name suggests, Grammarly mainly focuses on improving the grammar, sentence structure, and readability of the content.
So, if you want the proofreading of your content done by the most reliable software in the market, Grammarly can be your best bet.
But what if you get to know that the capabilities of Grammarly are not limited only to proofreading? And it can do a lot more things as well?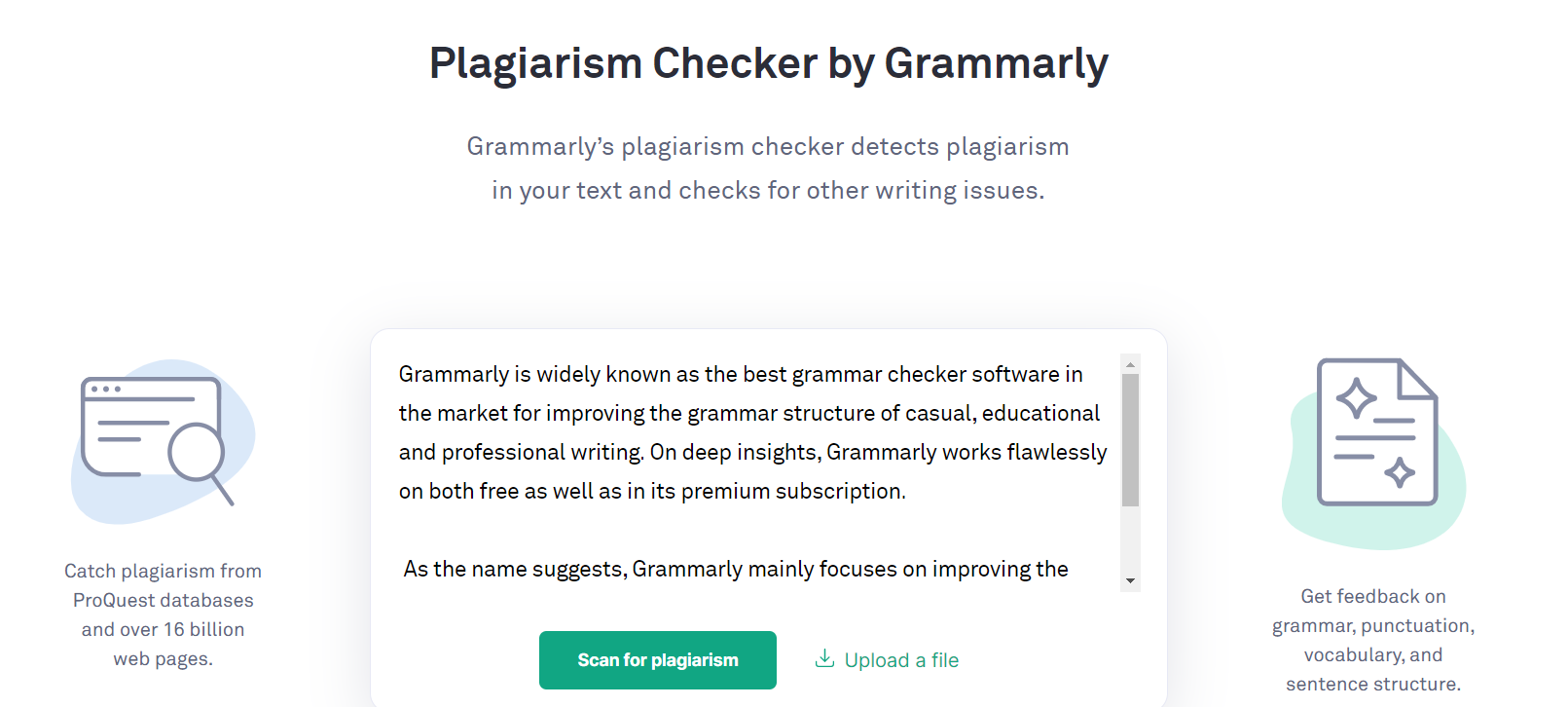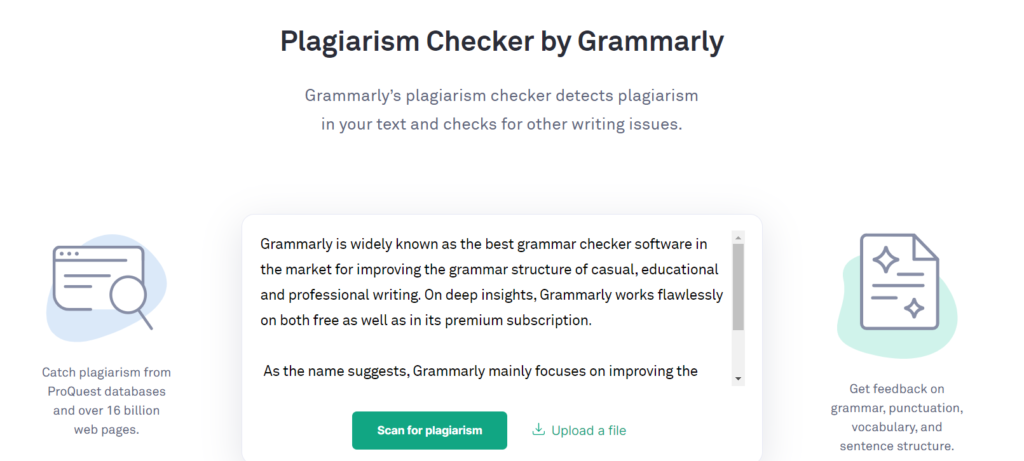 As known as the one-stop-shop, Grammarly also offers various other features, and the plagiarism checker/detector is one of them.
Access here: Grammarly Plagiarism Checker
Get your Plagiarism detected by Grammarly!
Yes, you heard it right, Grammarly not only aids you with enhancing your content's grammar and sentence structure, but it also offers a fine plagiarism detector plugin as well.
This enables Grammarly to run a plagiarism detection on your piece of content from billions of web pages and informs you whether your document copies some content from somewhere or not.
And now, with the alignment with ProQuest, you can check your text for plagiarism on their vast academic databases as well.
In short, Grammarly makes these hard tasks pretty easy and handy when checking document's plagiarism.
What makes Grammarly's Plagiarism checker so special?
As mentioned earlier, Grammarly's plagiarism checker delivers both handiness and convenience to its user, and that's the main thing that makes Grammarly so special.
With a large database and a side installment to a pre-purchased Grammarly premium, you can get your documents to check alongside adjusting the grammar and readability.
The main thing that distinguishes Grammarly's plagiarism checker from other software is its availability in the same software/app.
You do not have to purchase separate software to check plagiarism in your document, which really saves you a lot of time and effort. So yea, it's all about convenience and time saving, along with precision and accuracy as well!
How Handy is it in your daily life?
How Handy Grammarly's plagiarism detector is in your daily life? For this, let me quote my daily routine to help you understand it.
I'm a regular content creator who has a lot on his plate and has to complete a ton of tasks at the end of the day. And where I work, they have a motto of 'it's all genuine or nothing.
So in order to prove that my content is authentic and original, I attach a plagiarism report with my content as well.
Or if I don't do that, the boss does that on his end. Either way, it is really about genuineness. Anyhow, my first attempt always gets me to check the plagiarism and submit the report from my end (P.S. Helps me get an efficiency bonus, sometimes).
So in order to make sure that everything is done within the given time frame, I prefer using Grammarly's plagiarism checker all the time.
It makes me feel quite relieved when I see everything is getting done on a single platform, and I don't have to hop from one site/ app to another to check my documents.
Talking about plagiarism, sometimes it happens that some lines coincidently match with a site that uses the same wordings in their content.
Although you know that your content is 100% unique, there still might be a few objectionable lines that can call out for unintentional plagiarism. So in order to be on the safe side, it's best to run
So basically, Grammarly manages to pinpoint my tiny mistakes within my content, improve the readability and sentence structure along with detecting any sort of plagiarism (just in case it appears to happen).
So whenever I finish proofreading my final draft, I know what changes I should make to score a full 100% unique score for my content.
How much do you pay for it?
Unconventionally, this is a tough one to answer. You don't actually 'pay' for getting the plagiarism detector. It usually comes as a free plugin when you go for a premium subscription. But yea, you have to subscribe to the premium subscription in order to avail this feature. So yea, it isn't free (now).
With two types of premium plans by Grammarly, a user can avail of the premium subscription as an individual, starting at $12.00 per month and via a business package where you can accommodate a team of people with the same Grammarly premium account, which costs around $12.50 per member per month. In both packages, you get the free plagiarism checker /detector.
Is it really worth it??? A personal opinion
If you have reached this far, I'm sure that you are curious to know whether is Grammarly really worth your hard-earned money or not. And the answer is surprisingly quite ambiguous. It is and is not worthy at the same time. Are you confused, right? Let me explain it to you a bit more clearly.
Now, as you know, how Grammarly plagiarism detector works solely depends on whether its way of working suits you or not. I'll again quote my example, and I'm sure you and many people will relate to it. I am a guy of the hustle, and I want everything in one place.
I hate jumping places for separate tasks, and that's where Grammarly's plagiarism detector comes in handy to me. The detection sites are in billions, and now as the academic papers are in for the treat, you know that the detection game is up a notch.
But here's now the other factor comes in place as well. I'm going to state what you might not want to hear. At least at this moment.
For me, Grammarly's plagiarism detector is a bit 'inefficient'. Yes, Inefficient! Judging from the tone of the content, I sometimes go above and beyond and test the plagiarism in my draft on a few other sites as well.
And guess what, the document that Grammarly stated 100% unique contained around 45% plagiarism when checked on another site! Although the number only increased once, it raised my eyebrows.
Another time when I checked a 100% unique Grammarly document on another site, it contained around 9% plagiarism. So yea, after concluding all these results, I can say that you can't totally rely on Grammarly's Plagiarism detector.
But this also doesn't mean that you cannot completely rely on Grammarly as well. As I said, I use to check my documents quite frequently, and in 9 out of 10, the results are accurate. So yea, it actually depends upon the importance of the draft you are composing.
Suppose it's important, and plagiarism detection is one of the main aspects you have to cover. In that case, I'd suggest you cross-check your file in another plagiarism detector software/ app instead of completely relying on Grammarly (just saying to be on the safe side).
Other good alternatives:
So if not Grammarly, then what? And which ones? This question might be the very next thing that popped up in your mind after reading the above opinion. So for that purpose, I'd love to suggest some good Grammarly's Plagiarism detector alternatives upon which you can rely on.
Quetext
Turnitin
Unicheck
PlagScan
Paper Rater
These are the best plagiarism detector in the content marketers who are sworn to do nothing else but to detect plagiarism within the content. So it's well said that 'when you have only one job to do, you do it well!'
Verdict:
So as the final verdict goes, I can say that Grammarly's plagiarism detector works like a charm for me, and the best thing that makes it my number 1 choice is its convenience and ease to use.
It can literally help me detect any major plagiarism while I'm busy editing my document.
Just one click, and boom! Your text is being checked through a billion sites, and if something fishy is found, it will highlight it quite prominently and will clearly let you know where your document's lines coincide with some popular site's text.
And if you're getting this service for free, along with other premium plugins like better grammar checker, readability improver, and sentence structure builder. In that case, I think it's a win-win situation!
FAQs
Is Grammarly's plagiarism detection trustworthy?
It will be unjust to declare Grammarly's Plagiarism detector untrustworthy because of its little (around 5%) inefficiency while scanning the documents. It mostly gets the job done accurately, so this factor also makes it trustworthy as well.
How convenient is it to use Grammarly's Plagiarism detector?
When needed, there's a button in the bottom right corner that states 'plagiarism' (or 'plagiarism check' when you bring your cursor on it). All you have to do is just click on that, and it'll start processing your document through its wide database.
And when done (probably in a few moments), it'll exactly highlight how much plagiarism your current draft contains.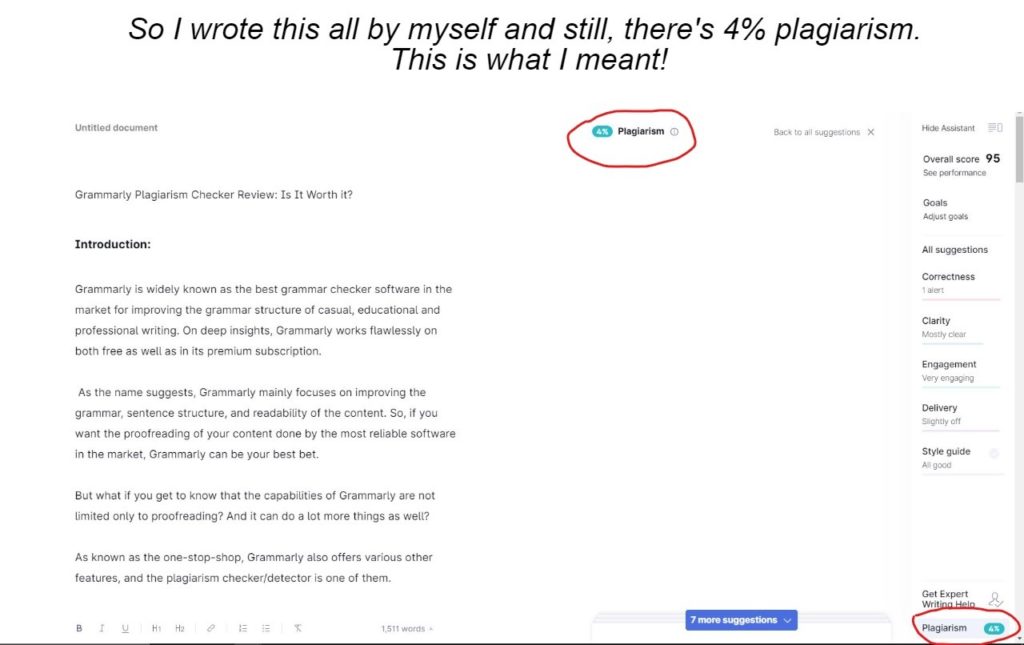 Try Grammarly: It's free to try Grammarly with basic features, you may upgrade later if you need the premium features.