Want to write error-free content?
We are here to help you.
With the help of these best online grammar checking tools, you can have confidence that your content, assignments, and other write-ups are free of mistakes.
These supportive apps and sites go through your writing and point out each and every mistake be it grammatical, spelling, punctuation, wrong sentence structures, etc, and suggest corrections.
You can even install these best grammar checker software as a plugin for web browsers. This feature comes in handy as it keeps on reading and assessing whatever you write then and there! Because no matter how attentively you write, teeny tiny typos and grammatical errors are hard to avoid completely on your own!
Why have grammar checkers become important tools in the writing industry??
Both Google algorithms & eager readers love to read well-written articles with no grammatical mistakes.
Thanks to these grammar checkers, you can confidently deliver error-free quality work and maintain your credibility!
Of course, the writing industry was not much dependent on grammar checkers before this era. But there were always proofreaders available.
With modern technology, grammar checking tools have successfully changed the game! They have added more scope to help you shine out with your style. Grammar checkers help you maintain your credibility when you craft professional, error-free content.
Best grammar checkers helps you:
Saving time for editing through proofreading your work
Improving the quality of your content with suggestions
Making the reading experience smooth for your target audience 
Teaching you correct spellings, spellings, punctuation, synonyms, etc
10 Best Grammar Checkers!
This grammar checker ranks top of the list because of its easy-to-use structure. With the help of AI (artificial intelligence), GrammarLookup not only proofreads your copy to eliminate grammatical, spellings, and punctuation mistakes but also suggests options for styling issues.
Here's how to use it:
You can type or Copy (CTRL+C) & Paste (CTRL+V) your text in the Editor.
Now, click the Lookup button.
This tool will underline Spelling, Punctuation, and Grammar mistakes.
You hover the cursor on each word for correct options.
You can Use The Deep Lookup button for a deep check through its partner grammar check.
Best grammar checker?
Most of the available grammar checking tools have two versions. The free one usually has limited features while premium versions of these tools offer added services of styling, word suggestions, and advanced punctuation correction.
But GrammarLookup got this edge of being completely Free to use with all advanced features, WOW!
Now you don't need to worry about spending the money to get premium features unlocked for speedy and error-free content.
Who is it for?
Everyone! Especially, if you're a student and want to turn in lengthy assignments but do not have enough resources to proofread them, It is your best shot.
Even the newbies in the field of writing like business reports, academic writings, business proposals, or even technical articles or blogs can save good time with this tool. A well-composed error-free copy always develops your credibility. It enhances the readability and gives maximum conversion.
The all-Free feature of GrammarLookup makes it our number 1 choice!
2. Grammarly – Best Grammar checker of all time!
Grammarly is an online grammar checker tool, it comes in free and premium versions. Although the basic function of both versions is to point out spellings, grammar, and punctuation mistakes and suggest the correct ones, the premium version offers more options like plagiarism reports, tone adjustments, readability scores, formality level, vocabulary enhancement suggestions, and provides citation suggestions.
How to use Grammarly:
Install the Grammarly extension to your browser and write error-free on almost every website.
Copy paste your text into Grammarly's Editor or into Grammarly's desktop app for Windows and Mac to get a crisp and concise copy.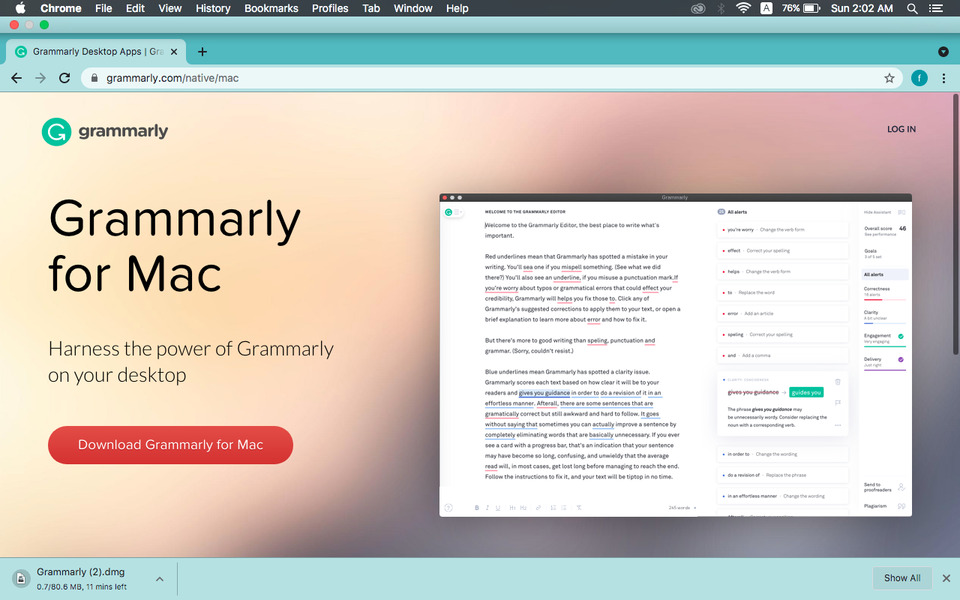 You can add Grammarly for Microsoft Office to Word and Outlook by downloading the add-in from http://www.grammarly.com/office-addin
Pros and cons of Grammarly
Although the easy use, accurate grammar, spelling, and punctuation checking with insights and suggestions for better writing are its strong points, being expensive for most writers especially for newbies makes it not an always sought-after, toat grammar checking tool in the market.
3. WhiteSmoke – Best Grammar checker software
WhiteSmoke is a paid grammar checking tool. It is accurate, very easy to use and among the best tools for businesses. This tool has similar features as in MS Word's grammar and spell-checks, only in a more advanced version.
WhiteSmoke checks your copy automatically when you write anything in Word documents, emails, and on the web. It is best for checking literary works like short stories, essays, and articles. It removes grammatical errors or reduces them substantially.
How to use Whitesmoke grammar checking tool
Download and install WhiteSmoke as a desktop application. It works equally well on PC or Mac with any programs you use on your computer, including word processing applications like Microsoft Word.
This tool uses a color-coding system for highlighting mistakes. Red for spelling, green for grammar, and blue for style issues.
Pros and cons of Whitesmoke
Processing wise it is slower and lags behind other grammar checking tools available online. But, the translation feature of WhiteSmoke makes it one of the best options for people looking for translators.
This tool offers full features of writing, grammar, and plagiarism checking in 55 languages. You can find several writing templates with access to hundreds of letters and document templates.
This online grammar checking tool offers 3 plans and gives people liability to choose as per their convenience.
4. Hemingway Editor – Best To Improve Readability
Hemingway Editor helps writers to assess their writing based on the basis of lengthy, complex sentences, usage of passive voice, and other common errors.
This grammar checker offers a free and a paid version. The grading system of Hemingway is very popular among bloggers and article writers.
It promotes readability and makes the content crisp and precise. You can directly post to WordPress by using Hemingway's paid desktop app which is available for both Windows and Mac.
How to use Hemingway?
You can use this tool by either copy-pasting your text or writing directly into the text editor. Click on the Edit view and it will highlight you with the suggestions. It color-codes each potential error type so you can edit them accordingly. Hemingway Editor is a speedy tool as it instantly shows the errors as soon as you write it!
Pros and cons of Hemingway
This grammar checking tool is amazing for self-editing as it enhances the clear and targeted writing style. It improves readability by suggesting the omission of lengthy sentences. It helps in both fictional and nonfictional writing.
But, this tool does not give you options for better-replacing sentences, elimination of adverbs, and conversion of passive voice to active voice to improve readability grades.
5. Writer
This tool is best suitable for businesses. It is accurate and possesses some pretty decent business security measures like SOC2 and HIPPA compliance. The style guide and user interface are very attractive. People can edit emails, documents, support tickets, web copy, product marketing, product UX, and more with Writer.
How to use Writer?
You can install Writer to
Google Chrome as an extension
For Google Docs
For Microsoft word
Visit the website www.writer.com and install following the instructions.
Pros and cons of Writer
This grammar checker is a premium quality style guide checker and allows businesses to create content rules. It is significantly cheaper than Grammarly, which offers likewise features at a higher price.
But, it takes a pretty good amount of time to set up properly and does not facilitate fiction writers or single users.
LanguageTool is a multilingual grammar checker and works with English, German, Polish, Russian, and over 20 other languages. So, this is a particularly useful tool for multilingual websites authors.
LanguageTool allows a distraction-free, targeted writing style and has a personal dictionary. It helps writers to judge their skills by providing quality scoring options.
The exciting feature of "picky mode" allows access to even more suggestions. The user can select between the dark and light appearance of the tool.
How to use LanguageTool?
Simply write or copy-paste your text into the editor while using it online. It will highlight the spelling and punctuation mistakes and suggest corrections. For more styling options, you will have to pay!
You can install LanguageTool as a free add-on for Chrome, Firefox, Google Docs, and LibreOffice. It is also available as a web-based editor and a complete desktop app.
Pros and cons of LanguageTool
Although LanguageTool is a user-friendly grammar checking tool, the limit of only 20,000 characters per check for the free version is a downside of LanguageTool.
7. Scribens
This is a free grammar checker tool and uses a sophisticated syntactical algorithm to correct more than 250 types of grammar, spelling, and styling mistakes including nouns, verbs, prepositions, pronouns, homonyms, typography, and punctuation.
It suggests better and correct sentence structures and synonyms. Scribens also feature a readability indicator, suggestions to help the writer improve their writing skills, along with detailed reports including the number of words, sentences, and paragraphs.
How to use Scribens?
You can write your text directly in the editor or copy-paste your desired chunk of writing for correction.
Or you can add Scribens as Google Chrome and Firefox extensions to check your copy directly using the browser. Just visit the website and follow the instructions for installing.
This grammar checker is compatible with MS Office applications and email clients.
Pros and cons of Scribes
This is a reliable grammar checker tool and provides explanations to help the writer improve English writing skills.
You can enjoy hassle-free checks and corrections with its free version and the paid version offer even more exciting features like removal of ads across the entire site, Integration of tool as an extension in all your favorite applications, and text checker limit to 200,000 characters which is approx. 50 pages.
8. SpellCheckPlus
SpellCheckPlus helps writers learn more about writing in a second language and the intricacies of writing. This is a useful, affordable, and easy-to-use grammar checker if English isn't your first language.
How to use SpellCheckPlus?
SpellCheckPlus allows you to paste extracts of your work – up to 2,000 characters at a time. It scans your extracts for complicated language, unnecessary words, spellings, punctuations, etc.
Pros and cons of SpellCheckPlus
SpellCheckPlus summarizes errors and also provides context as well. It's a basic grammar checker for finding and fixing errors on the go.
But, you can't add custom words to a dictionary, specify writing styles, and other detailed reports. Also, it is not suitable for multiple genres of writers like fiction and others. SpellCheckPlus is only available with a web browser and works online only.
9. AfterTheDeadline
AfterTheDeadline is a useful grammar checking tool with correct insights into grammatical mistakes and sentence structure and readability features. It offers services not only in English but also in French, Portuguese, German, and Spanish (grammar and spelling checking facilities).
How to use AfterTheDeadline?
This tool is usually used as an extension for other platforms, adding the system's grammar and spell check functionality to already established software like Chrome, Firefox, and others.
However, AfterTheDeadline is accessible through its official website too, in a section marked "Demonstration. Paste your text into the box and click "Check Writing." It then scrutinizes every word and sentence. AfterTheDeadline uses color code to highlight corrections.
Spell checking suggestions will be marked in red, grammatical corrections in green, and style issues in blue.
When you find a highlighted proofreading issue, click on the text and a list of suggestions will pop. You can run the tool while writing your blog posts. Just click on the spellcheck icon at the bottom right corner of the editor.
Pros and cons of AfterTheDeadline
The explain section of AfterTheDeadline is a helpful tool and provides a mentoring aspect for new writers. If you get a suggestion and you don't understand it, you can click on Explain to get a decent write-up on the issue.
You can find AfterTheDeadline on many different platforms.
They are:
AtD Tool
bbPress
Bookmarklet
BuddyPress
Confluence
Chrome
Firefox
Open Office
Windows Live Writer
WordPress (Formerly)
But, this tool does not offer plagiarism detection features and no mobile app on the Android or iOS platforms is available. Along with that, this tool is a bit difficult to download and its security seems shady. On the downside, the tool has not been updated in years and has no option for MS Word or Google Docs.
10. PaperRater
PaperRater is a cloud-based application that checks papers and essays for grammar and spelling errors. Its main audience is high school and college students as it has a feature to compare your text with that of other students who are at the same education level.
Based on these comparisons, it recommends ways of how to improve your writing. PaperRater points out sentence length and variability, vocabulary usage, passive voice detection, and phrases to avoid.
How to use PaperRater?
You do not have to sign up, log in, or download anything. Simply go to the website www.paperrater.com and click on the "Use Now Free!" tab.
You will be directed to another page with a text window.
You can either upload your file or copy-paste the text for analysis.
Pros and cons of PaperRater
PaperRater has a Basic(free) and a Premium(paid) version. It provides readability statistics, an automated scoring system, and also checks for plagiarism.
users can only access PaperRater via its website as there's no mobile support.
You can avail of 10 plagiarism checks in a month while using the free version and 25 plagiarism checks while using the paid version.
If you're like me, who scroll down to the end of the page before even start reading,
Here's the recap!
For your convenience, We have listed below the 10 Best Grammar Checkers you can find easily.
Hemingway
Writer
LanguageTool
Scribens
SpellCheckPlus
AfterTheDeadline
PaperRater