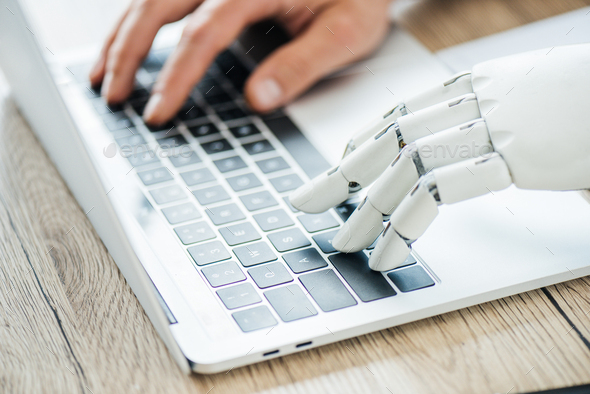 Content marketing is a challenging task. It requires constant innovations and creativity, which could be mentally exhausting. In 2023, being able to communicate fluently is important for progression. Woefully, the last thing you wish for your writing is to be overshadowed by idiotic grammatical mistakes.
In modern times, where branding image is being highly observed, even a tiny grammatical error can adversely impact your business's credibility. In this regard, your content should be concise, clear, and should be laid out understandably. Wouldn't it be appreciable if you could eliminate the flaws in your content? It is where the need for writing assistants emerges.
By writing assistant, we don't mean the manual human work, but the automated writing software which brings flawlessness and creativity to your content at once.
7 Benefits of implementing a Writing Assistant:
Indeed, the best writing assistants are the ones that align with your browser and word docs. Meanwhile, it offers the tools you need to strengthen your writing skills. Before diving into a pool of best writing assistants present out there, let's head on to some of the leading benefits of using a writing assistant in 2023
Saves Valuable time:
Manually, it takes you hours to generate a proper SEO-optimized article, while editing and drafting is another case to deal with. You can create a much better version within minutes with automated writing assistants. These tools work proficiently and outperform the speed of work done by a human mind.
Brings Professionalism:
Poorly-written content reflects a lack of effort, attention, and above all, the feeling of unprofessionalism. With automated writing tools, you can rest assured of the consequences. Besides saving valuable time, a writing assistant brings the utmost professionalism to your work. The improvement of words within the text makes you appear confident to the clients.
While eliminating human error, these writing tools excel in providing practical insights. In a nutshell, it wouldn't be wrong to say that writing assistants have become a necessity rather than a luxury.
Enhances Self-confidence:
If you're a frequent writer and manage multiple projects all by yourself, then writing assistants come in handy. Well-written articles require excellent language proficiency and an accurate choice of words. If you're learning a new language and it's an utterly new experience for you, the writing tools will provide a quick and reliable solution to such writers. With writing assistants, communicating in different languages becomes easier.
Budget-friendliness:
Since writing tools are mostly free, they tend to save your excess pennies by providing both content writers and editors. So, there'll be no need to hire an external editor or proofreader to analyze before publishing. Isn't it impressive that writing assistants follow your commands and prioritize your preferences?
Maintains Credibility:
Undoubtedly, it acquires years of hard work to build sound goodwill in content marketing. Often, strategizing seems more difficult than execution. With that said, automated writing tools ensure that your creativity levels remain intact. However, you're still required to analyze the results and if you want to perceive the ideas in the future or not. So, writing assistants maintain the credibility of your business, and meanwhile, you can conserve your energy for other important tasks.
SEO- Optimization:
One of the most captivating features of writing assistants is their work with SEO optimization. When we write for Google, our top priority is to rank it first. Currently, SEO is highly significant for digital marketing content, so these tools create a desirable report including all the relevant keywords.
Allows Scalability:
As mentioned above, writing assistants allows productive services due to which you gain a lot of excess time. You can focus more on your creativity level and implement it smartly wherever needed. Fortunately, writing tools are completely neutral as well. Besides making your report flawless, they appear with the most authentic information, which is usually backed up with evidence.
Best Free Writing Assistants in 2023- Our Top Picks
Businesses use professional writing as a special tool, ultimately attracting readers to their platform. While the competitors are generating exceptional content, there's no way we're going to lack behind, right? For this purpose, a well-written text shows the credibility and professionalism of the writer. On the contrary, grammatical errors can adversely impact a company's reputation.
Whether you're trying to compose a business email or writing a social media blog post, there're tons of writing assistants available to help you out. Surprisingly, all of them are utterly free of cost. It means that you don't have to roam around for hours to find the most suitable one according to your budget. Below, we've evaluated some of the best online writing assistants available to take your writing to the next level.
Grammarly:
(Best for Grammatical errors)
Undeniably, Grammarly is one of the best writing software available to date. Primarily, it saves you from all the embracing moments after you forward your content to the client but later realize that there're tons of errors within your text. With Grammarly Assistant, there's no room for spelling mistakes, punctuation errors, and poorly structured sentences.
The initial phase of the Grammarly version is free of cost and provides all the basic corrections. Beginners find this an easy-to-understand writing assistant as compared to others. It is because the services of fee-version are sufficient for their work level. Grammarly reviews the tone of writing and if it's friendly, informative, cautionary, optimistic, and so on. Also, it provides cordial suggestions on how to improve the sentences to make them more comprehensible.
Also Read The best AI Writer: Jarvis AI writer.
Pros:
Provides suggestions for a well-written sentence.
Detects hidden grammatical mistakes.
Serves collaborative features.
Cons:
Plagiarism detection is only available on the paid version.
More expensive than the competitors.
Requires fast internet connections.
Scribus:
(Best for Publishing)
Scribus writing assistant is made for you if you're running a magazine agency and believe in self-publishing. The way you present your ideas into words is much more significant than speaking them out. Fortunately, Scribus is an open-source publishing tool that aligns your content beautifully. Precisely, it makes a delightful blend of your thoughts with professionalism.
With multiple publishing features including, layout, color management, and typesetting, this writing assistant can support vector drawings and PDF files. You can easily figure out how Scribus works if you've dealt with InDesign previously. So, it wouldn't be wrong to say that the user interface of this tool is comprehensible as well.
Pros:
User-friendly UI & UX design.
Spot errors within your text to make it flawless.
You can easily edit content within different layers of a document.
Cons:
The application often runs quite slow.
It lacks in identifying the spelling mistakes within the content.
Doesn't look impressive while changing fonts.
LibreOffice
(Best for Text Improvement)
LibreOffice is free of cost and is an alternative to Microsoft Office. It is more like a word processing app and a writer acquiring multiple features of Word without a price tag. It's a flexible choice for writers with a complete set of editing tools, dictionaries in various languages, and active community supporters. It's compatible with Windows, Linux, and Mac OS devices. Also, it assists various multiple plugins.
Moreover, there's an availability of a wide range of report templates. It also features databases spreadsheets and can be used to determine mathematical formulas.
LibreOffice has a user-friendly interface that makes an attractive combo of style and productivity. To expand the abilities of LibreOffice, you can opt for additional features including, language packs, improved accessibility, and premium grammar tools.
Pros:
Exceptional format capability.
Report template galleries.
Supports multiple plugins.
Cons:
Absence of a Smartphone application.
Lack of direct cloud support.
Zoho Writer:
(Best for Editing)
If you're putting together MS Word, Grammarly, and Google Docs, Zoho Writer is the writing assistant that you'll achieve as a result. In a nutshell, it's everything you need to make your text professional. Besides multi-tasking properties, it allows collaborating with other writers on a single report. Also, it tracks the progress of every writer so you can judge their work and how they're engaged with the file.
The tool lets you make sticky notes in drafts, which are only accessible by you. You can practically review the stage of your workflow and save valuable time checking in with other collaborators.
In 2023, Zoho writer is a great writing assistant for formatting your content and expressing your ideas more clearly.
Pros:
User-friendly interface and easy-to-use application.
Allows working offline.
Tracks the entire working process via a dashboard.
Cons:
The interface is slightly outdated, and the icons aren't automatic.
Dynalist:
(Best for organizing your work)
An important aspect of writing is coherently organizing your ideas. In this regard, the Dynalist writing tool is here to help you out. This writing tool is perfect for individuals interested in pursuing an organized writing practice. It helps you create outlines of articles, blog posts, and essays. So, before you begin the writing process, you're cleared with your priorities and which points you've to address in your draft.
With such a feasible and free-of-cost writing alternative, you get the availability of collaborating and sharing as well. Generally, it's productive for individuals who own a business or work in an organization. One can effortlessly plan the content before the creation and share it with the team members. Also, it serves as a worklist tool that helps you stay ahead of all the outstanding tasks and allows managing time to accomplish them.
Pros:
Allows customizing documents.
The text editor contains multiple templates.
Offers sensible explanations for errors within the text.
Cons:
Absence of spelling checker.
The Smartphone application lags and functions slowly.
ProWritingAid:
(Best for Writing Professional Content)
ProWritingAid is an automated writing tool that is specifically made for professional writing. Primarily, it focuses on increasing readability. Other corrections include poor sentence structure, grammatical errors, and pronouns that prevent the appearance of your full writing potential.
Besides writing suggestions, ProWritingAid reviews your writing skills and your changes within. It provides explanations for the errors so that you'll avoid repeating them. It'll acknowledge you regarding the words you've overused and which area you need to concentrate on. With ProWritingAid, you're not required to drain yourself for a perfect piece of writing. It offers a versatile style editor that helps you find a better replacement for the weaker phrases.
Pros:
Provision of synonym suggestions.
Easy-to-understand user interface.
Serves collaborative features.
Cons:
Smart features are only available with the paid version.
Readable:
(Best for improving readability)
As the name suggests, the Readable tool primarily focuses on the readability of your text. It is a word processing writing assistant that analyzes the clarity of your content. Later, it provides a score based on your text's engagement for an average reader. The tool comes equipped with many features that writers mostly find quite helpful. Apart from the basic spelling and grammatical changes, you can opt for this tool to review the quality of your content before forwarding it to the client.
If you're accessing Readable via the web, the writing tool is completely free to use. All you do is paste your text on the web, and Readable will help you make it more precise for the generic readers. This tool gathers relevant statistics on your writing skills, from reading time to content composition.
Pros:
Provision of more understandable words.
Best for maintaining a smooth workflow.
The tool is compatible with every digital gadget.
Cons:
Absence of storyboard and writing templates.
Doesn't allow collaboration and sharing with others.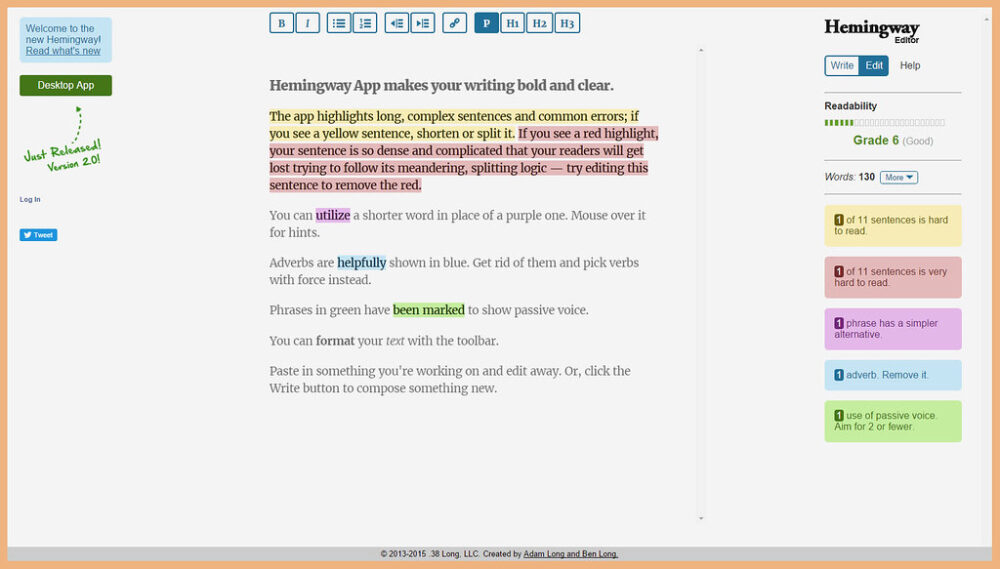 Hemingway Editor:
(Best for Copyediting)
Undoubtedly, editing is an essential aspect of writing, especially if you're writing for your clients. Readers often prefer short and clear text, and if you fail to provide it, they'll move past your platform without considering it even once. For this purpose, Hemingway editor comes in handy.
In 2022, there's no room for lengthy and time-consuming tools. However, Hemingway editor doesn't entertain with unwanted tutorials and evaluations, but it cuts to the chase and helps you strengthen your content.
With multi-colors, the writing tool highlights every kind of grammatical error. It makes your language fluent and brings accuracy within the sentence structure. Concisely, it organizes your text and helps align it with the correct phrases.
Pros:
Scans through words for passive voice.
Highlight different kinds of errors through multiple colors.
Serves completely free-of-cost AI services for writers.
Cons:
Doesn't provide suggestions for grammatical mistakes.
Often misalign the formatting of a document.
OnlineCorrection.com
(Best Text Editor)
OnlineCorrection.com is a complimentary writing assistant mainly used by students and professional writers. The online tool is easily accessible and straightforward. Also, the editing software expertly goes through the text for grammar issues, spelling errors, and tone issues. This writing assistant is highly feasible and packed with a simple and attractive design. You just have to insert your content, and the tool will proofread it for you. With just a single click, OnlineCorrection.com highlights all the grammatical errors within the text.
The availability of multiple languages turns it among the best writing assistants in 2022. Since the tool is utterly free of cost, a stable internet connection is all you need, and you're good to go.
Pros:
Easy-to-use interface.
Supports a variety of languages.
Provision of better vocabulary suggestions.
Cons:
Non-availability of proofreading for punctuations.
Absence of a dictionary.
Author:
(Best for Academic assignments)
If you're struggling as a writer, then Author is a game-changer. Sadly, poorly written content outshines an unpleasant user experience, but this free writing assistant eliminates complicated sentences and keeps an eye out for clarity.
Similar to the name, the Author improves your writing skills. It's an automated tool that allows planning your content. So, you can write without any disturbance within the workflow. If you're a beginner at SEO optimization, this tool is great for starting up. Consequently, the Author's exceptional features can save you a lot of time and energy by doing all the work itself.
Pros:
Fantastic UX design.
Creative export options.
Powerful map features.
Cons:
Works only on Mac OS.
Final Thoughts:
To pick the most suitable writing assistant in 2022, you need to consider your requirements first. If you're a student or a freelancer, you'll need a multi-tasking tool. On the contrary, you might require a fully automated writing tool if you own a business. Don't be anxious, the above-evaluated writing tools might be helpful. Take your time and research the specifications of each one of them. Remember that whichever tool you'll opt for must be proficient enough to fulfill your desires related to content.