Being able to write well involves a lot of different concurrent thought processes, but perhaps the most important of all of these is the ability to grasp the rules of English grammar.
A lot of aspiring writers assume that their instinctive knowledge of their native tongue means that they can simply write in a way that feels correct to them, but in a lot of situations said writers will find that adhering to the rules of grammar is a great deal more essential than they might have initially thought.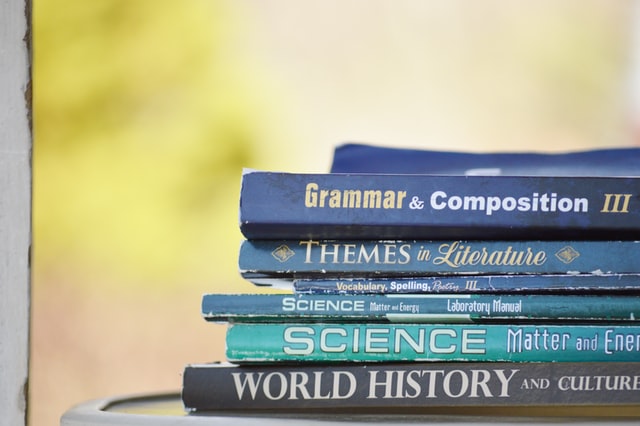 If you want to write something for a client or get published on an influential platform, it is essential that you learn about the proper grammatical rules that govern the English language.
Doing a bit of reading on the subject can be a big help here, and it is for this reason that we have compiled a list of the top 10 English grammar books that writers can take advantage of. You can use these books as reference points throughout the writing process.
Top 10 English Grammar Books
A picture is worth a thousand words, or so the old saying goes, and this grammatical tome by Jara Kern follows this philosophy quite soundly.
The book features a lot of graphics that break down complex grammatical concepts in a really amazing way, and the fact that all of this information is provided in the form of visual cues helps keep the book engaging.

Grammar books are often criticized for being dry and tough to get through, but that isn't a problem that you would likely be facing with this particular volume.
While non-native speakers might not be able to wrap their head around some of the tougher concepts, writers that are focusing on the English language will already have a strong base that they can build on by using this book as a reference.
Pros:
Fully illustrated
Easy to understand
Simplifies complex rules
Discusses common mistakes
Cons:
For writers that are looking to enter a period of self-study during which they can improve their grasp of the English language, this book by Raymond Murphy can be a perfect addition to your academic collection.
The writing style used in this book is quite pleasant, and some might even be able to breeze through it as if they were taking part in a bit of light reading. This is also not a very expensive book which is great for newbie writers who might not be all that financially stable yet.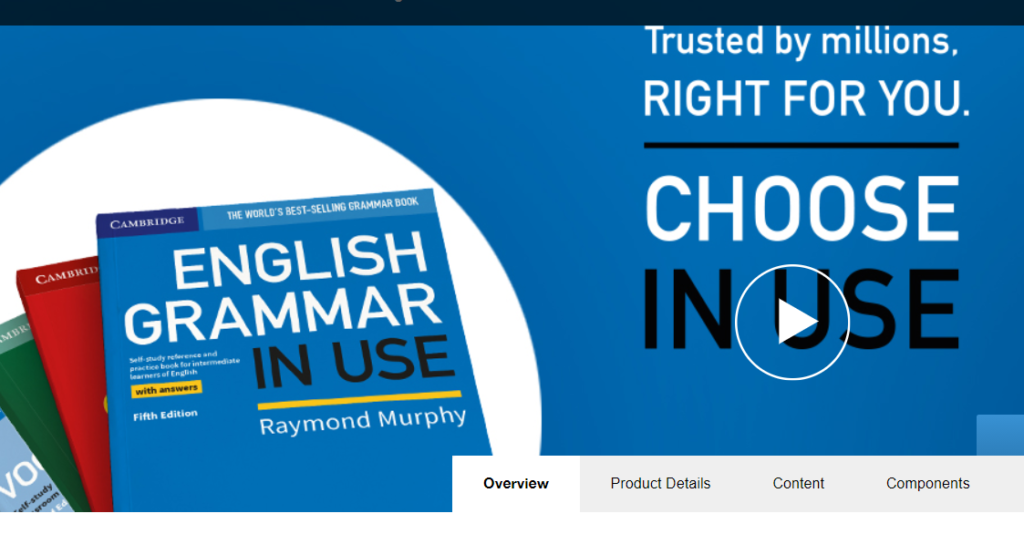 However, this book does not touch on each and every topic under English grammar.
For example, sentence structure is not discussed as thoroughly as it should be.
It still offers enough information on most other grammar topics, though.
Pros:
Perfect for self study
Well written
Relatively affordable
Cons:
Not as comprehensive as other volumes
Basic rules of grammar will only get you so far. At a certain point, you will have to figure out how you can implement these rules in order to be able to write a bit better too.
Once you have gotten to a point where you have acquired a decent amount of English grammar knowledge, you can start taking cues from this classic book by William Strunk Jr.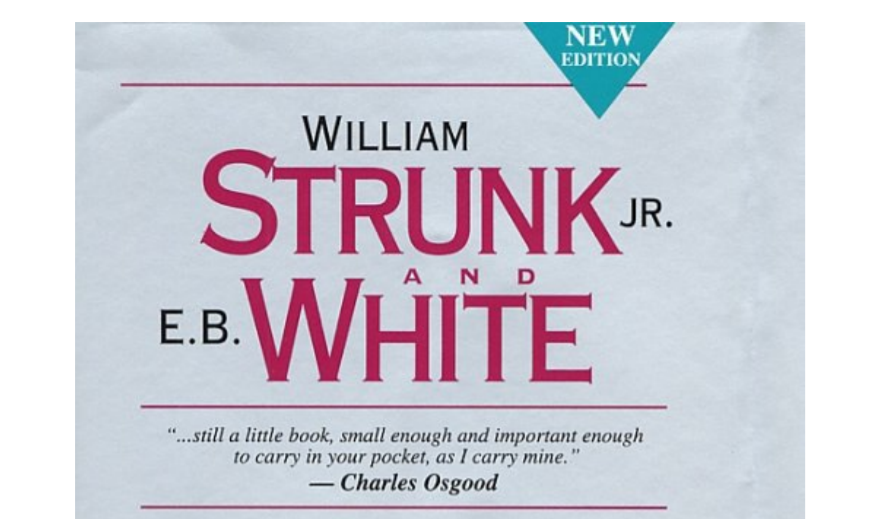 This book has been widely renowned for its no-nonsense approach, and it can thoroughly demystify the writing process. It teaches you how to sound like a proper writer, something that can help you get taken a lot more seriously when you start to work towards getting published or finding clients.
Pros:
Offers important information that can be used in a writing context
Provides a higher level of grammatical knowhow
A classic volume with historical importance
Cons:
Only useful for intermediate writers
One of the most pervasive myths regarding the English language, or indeed any language at all, is that you need to stick to the prescribed rules and regulations strictly otherwise you wouldn't be writing correctly.
Lynne Truss attempts to dispel this myth by adopting a more descriptivist approach, and while grammar snobs around the world might be up in arms at this, it doesn't change the fact that this book addresses the rather subjective history that is involved in the formation of virtually any language in the world.
This book is perfect if you want to work on developing your own unique tone of voice, and it helps you figure out what you can experiment with regarding grammar rules whilst still maintaining a coherent style of prose.
Pros:
Emphasizes correct punctuation
Fun to read
Adopts a descriptivist approach
Cons:
Prescriptivist grammar nerds might disagree with her approach
The thing that sets this book apart most of all is the fact that Patricia O'Conner is an editor, so she has a good idea of the common mistakes that writers tend to make in their first drafts.
Her writing style places an emphasis on using plain English since O'Connor is a big believer in simplifying concepts rather than using jargon to convolute them further.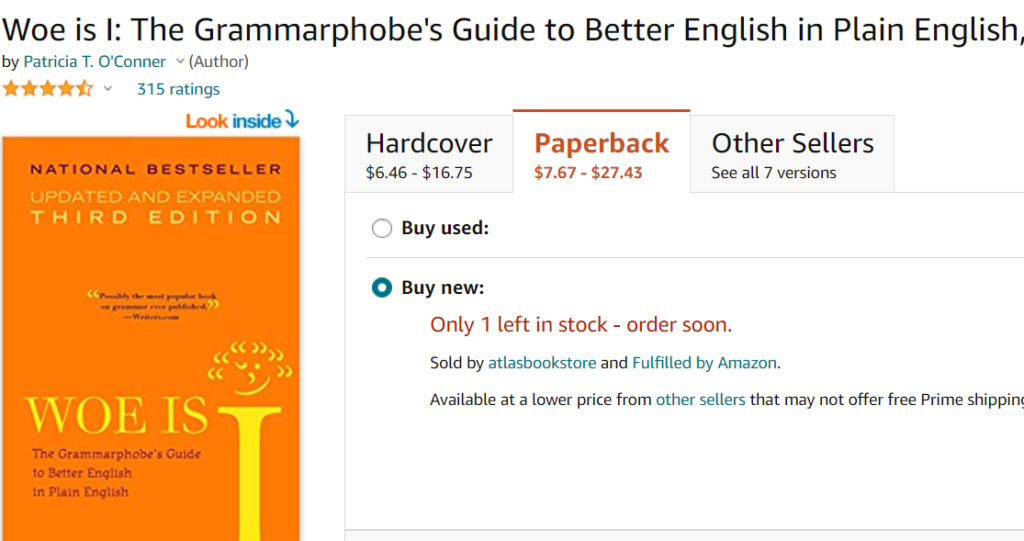 This book can help you get started in the world of writing by learning about common mistakes that you might have made in the past, and the fun writing style makes it so that you can read it in your spare time for fun too.
The only negative aspect of this book that we can think of is that it is not quite meant to be used in an academic capacity, but it still manages to be a great way to mold your writing style.
Pros:
Easy to understand writing style
Addresses common mistakes and confusion
No condescension or heavy-handedness
Cons:
After you have started to learn a fair bit about the rules of grammar that the English language follows, the next step would be to test yourself as much as possible.
This is where this book by coauthors Wendy Wilson and James H. Barlow comes in.
The book contains a number of exercises and worksheets that can be a handy way of assessing what kind of progress you've made with grammar.
One thing to note is that this book doesn't come with an answer key, so you will have to find other sources for this. Regardless, it's still a good option if you want to know how far you've come since you started your journey as a writer.
Pros:
Contains worksheets and exercises
Provides a good understanding of grammatical rules
A useful supplement for other books
Cons:
Doesn't come with an answer key
Only useful for grammar assessment
This comprehensive tome provides a very easy-to-read guide that can be the perfect reference for a writer. You probably already have a decent knowledge of how English grammar works, but you might need something to refer to in order to maintain stylistic consistency in your writing.
This book is perfect for this kind of usage, and the fact that the versions are regularly updated means that the grammatical rules reflect the current state of English rather than being antiquated.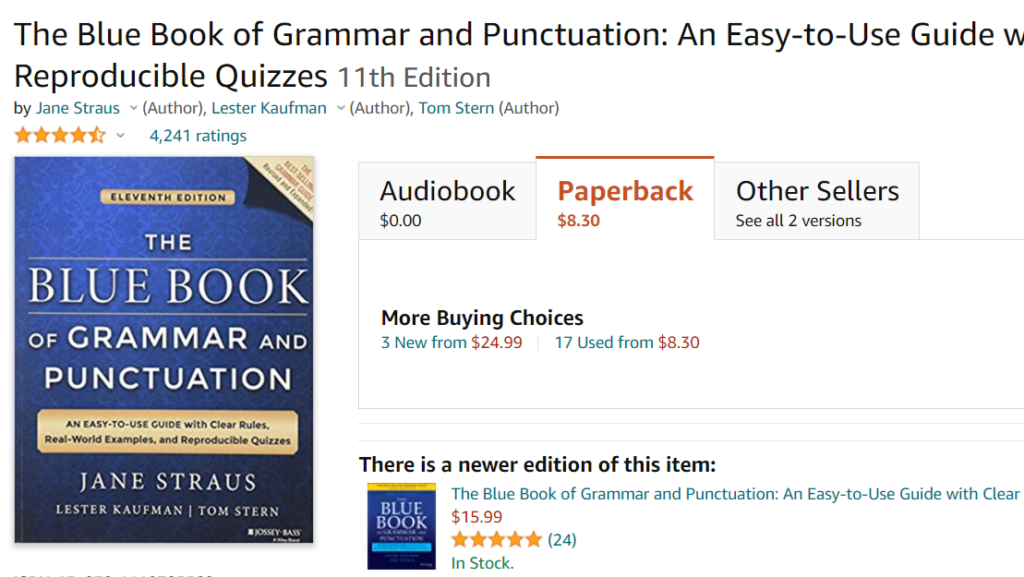 The book is a bit on the heavier side though, so don't buy this expecting a pocketbook. It's also pretty dense, so while people from all walks of life can gain a lot from it, it will take a fair bit of time to chew all the way through.
Pros:
Simple, easy to use guide
Regularly updated versions
Works perfectly for all language levels
Cons:
Overly bulky
A bit too dense
If you want to move into academic writing which involves the translation of religious texts, you need a book that is capable of handling a project with such a scope.
Biblical works are found in all kinds of languages, with some of the oldest beings in Hebrew and Ancient Greek. Obtaining an understanding of these languages and how they can be translated into English can give you a lot more scope as a writer.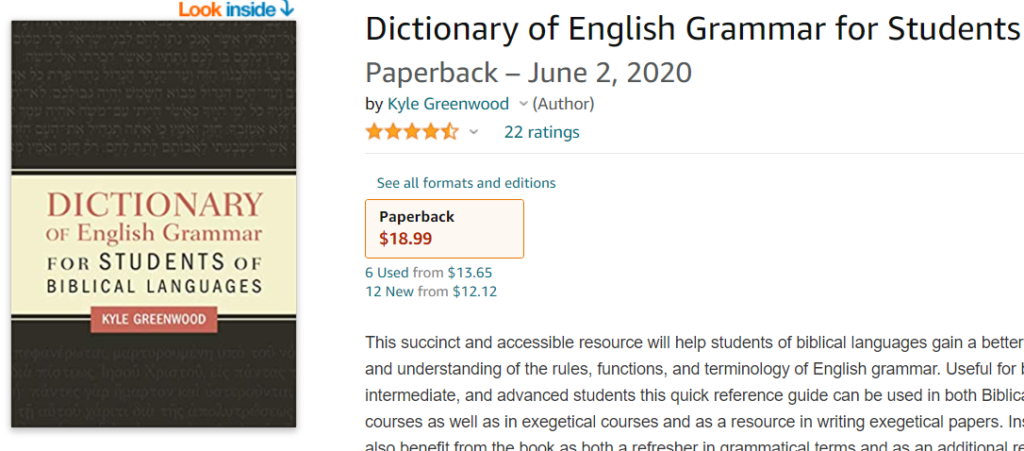 That said, this is quite an expensive book, so it should only be purchased if you plan to enter this highly specialized field. A lot of writing work involves academic analysis of religious texts, though, so if you fall under this category this book could prove to be a useful addition to your library.
Pros:
Suitable for religious interpretations and writing
Provides highly detailed information
Cons:
Very specific usage
Somewhat overpriced
A major part of finding a career as a writer involves using language in such a way that you can describe things in a more or less concise manner. Adopting a more economical writing style can be tough, but reading this book can help you take a step in the right direction.
This book can help you communicate what you are trying to say whilst using the fewest possible words which is an important aspect of working as a writer since you often need to stick to a specific word count.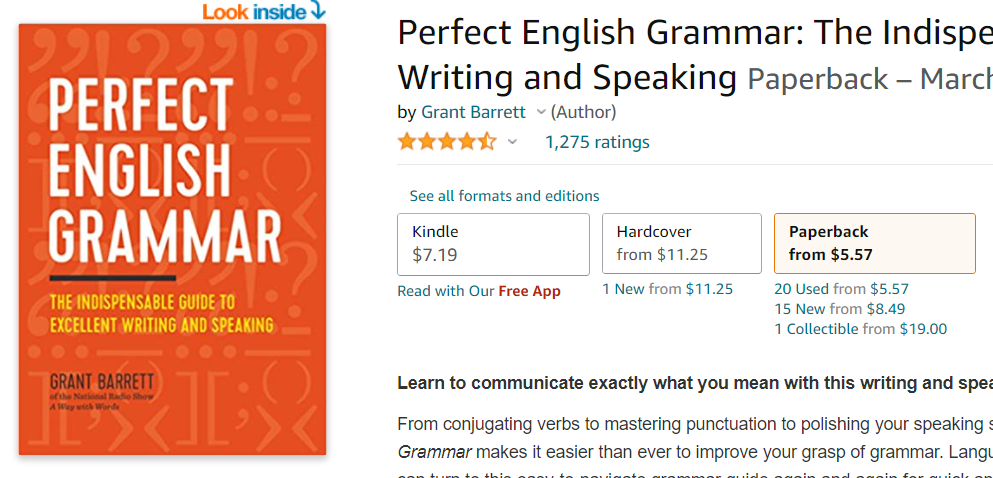 Some people might find this book somewhat dry, though, and one reason why we gave it such a low spot on our list is that despite this dry writing style it doesn't really go fully in-depth into the more complex grammatical rules that you would be required to follow.
Pros:
Molds a concise writing style
Suitable for all language levels
Improves day-to-day communication
Cons:
A bit dry
Only provides surface-level info
One of the biggest reasons why writers need to refer to English grammar books is so that they can avoid mistakes, and this makes this book an excellent choice as it talks about some of the worst mistakes that you can make as a writer.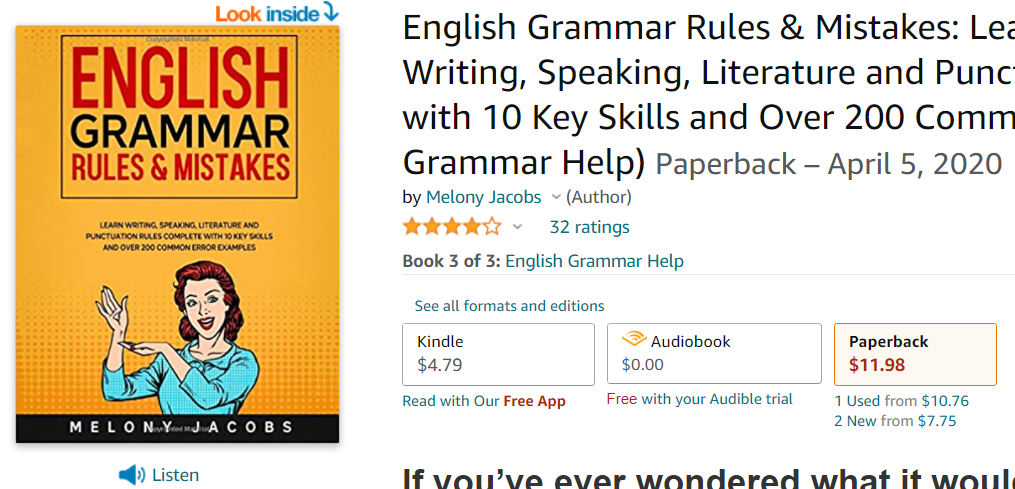 The editing in this book is a bit sloppy but it still manages to provide useful information about mistakes that you can avoid to try and elevate your writing. Non-native speakers who want to start writing in English would find that this book would work perfectly for them.
Pros:
Best option for non-native English speakers
Addresses major writing mistakes
Cons:
FAQ
Q. How many English grammar books should I read?
A. A common mistake that newbie writers make is that they try to pick one grammar book and stick to it, assuming that it will contain all of the information that they need.
While many of the books we have mentioned above will give you a decent amount of knowledge about English grammar, it is important to diversify your study materials so that you can obtain balanced information.
Try using at least two or three books so that your grammatical becomes more comprehensive.
Q. Are these books only for native speakers?
A. Some of the books in our top ten list are only going to be suitable for people that already have some knowledge of English, but this isn't the case for all of them by any stretch.
A number of these books were specifically written for people that don't have much of a grasp of the English language, so if you are looking for something that can help you start a career writing in English you can choose one of the books from our list that cater to your specific demographic.
Q. What else can I do to improve my grammar?
A. English Grammar books are a great way to get the basic structure of English language rules down pat, but they are only the starting point. In order to be able to write in a more naturalistic way, you need to read other types of books as well.
Books of prose, news articles, and even poetry should be incorporated into your reading list. This will help you acquire the right turn of phrase based on the style of writing that you are planning on taking part in rather which can be a good supplement to the rules that these books will teach you.