Before we dive deep into the ocean of truth that will ultimately reveal the worthiness of the Grammarly premium, I would like you to know the basics about the initial Grammarly program and its later elevation to a better, or may I say the 'premium' version.
Grammarly is a worldly recognized grammar checker software developed in 2009 in California, USA. But now, for most writers, Grammarly rests as the famous and most popular proofreading software that can save you a ton of time by making your writings easy and convenient.
So if the keyboard is your best friend, writing is your passion, or even you are just a regular guy who has no space for errors in his writing content, then you might be interested in knowing Grammarly in detail. And that is what I am going to do.
Grammarly saves you with an Edge:
As mentioned before, Grammarly can save you a lot of time by preventing all those minor typo errors from getting blend into your well-crafted masterpiece content. I am a good writer who is well aware of the basic sentence structure, tenses, voices, and punctuation.
Yet, I have been addicted to this convenience as there are many moments where simple, small, yet embarrassing typo errors can easily make their way into your content. To make my content as perfect as it can be, Grammarly is my best buddy. If it is mine, it can be your best grammar buddy too.
Why do you even need Grammarly?
Despite being an overall helpful tool for composing written content, Grammarly serves its purpose well, especially when:
1) You need more authenticity in your written content:
Whether making authority or authenticity, if your content has some severe yet embarrassing grammatical and punctuational mistakes, your readers can get frustrated, start disliking your creation, and lose your authority. However, if you want your voice to be solid and concrete, you should better consider Grammarly as a helping hand for yourself.
2) You are delivering something important:
If you plan to deliver something valuable to your readers, you do not want to ruin it with some typos made in ignorance. However, if you install Grammarly, you can eradicate all those mistakes with just a simple click.
3) It's a win-win situation!
Using Grammarly just enhances your assessment capability and improves the essence of your content. It helps you get reasonable control over your content in a short time and with powerful aid. You have nothing to lose in this situation.
What precisely Grammarly Freeium can do?
Grammarly offers a lot than just its name suggests. Not only as an authentic grammar checker, but Grammarly is also widely known for the following features as well:
1) Grammar and Punctuation:
The first and foremost feature of Grammarly is to detect all the possible grammar and punctuation errors in the written content. It helps you by highlighting them and providing reasonable suggestions to maximize the readability.
2) Spellings:
Grammarly is also known for highlighting the spelling mistakes within the content. Most of the time, we mistype the words without actually knowing that we did it. It gets all good from our side, but when our reader reads it, that spelling mistake becomes a huge turn-off. So to save me from this blunder mistake, I prefer using Grammarly
3) Readability: (Premium Version Only!)
Grammarly, along with many other aspects, focuses on the readability of the content as well. It highlights all the clumsy sentences that can be hard (or awkward) to read. It suggests more 'suitable.' That suggestion can either be in better sentence structure or a shortened sentence that can deliver active and easy readability.
4) Plagiarism: (Premium Version Only!)
Grammarly also aids as a viable source of detecting plagiarism within the content. It is easy to copy content from its inception, leading to unethical problems, unproductivity, copyright issues, and cheating. So just in case, you have any doubts that you are received plagiarised content in any way, then Grammarly is your Sherlock Holmes!
Why the Premium?
Before mentioning more on the 'premium' side of Grammarly, I would like to share my experience with it. I have been hooked to the free version for quite some time, and it helped me pull my grammatical strings real good.
But gradually, my workload started increasing, and I thought of having a dire need of a virtual assistant that can help me polish my content and make it look more presentable and readable. And that's when I thought of going for the premium version of Grammarly.
So yea, Grammarly premium was wayyyy better than I expected, with
More precise analysis.
More accurate suggestions.
Plagiarism detection.
Especially for a person like me, it was very, very handy.
As a university student, especially in these pandemic times, I use to get many writing assignments and quizzes that carried a good portion of marks in the terminal examination. Along with all the information I had to provide, the grammar portion consisted of a significant part of the total marks. And that was the portion I could not afford to lose a single grade. I had to make sure everything was polished and presentable, at least from the grammar's end.
Although my grammar and sentence structure are well-versed and up to the mark, I use to make some silly, unpredictable, and somewhat 'stupid' grammatical mistakes along the way. So making sure it does not affect my assignment grades, I went for the premium version, and trust me, I am still enjoying every cent of it.
Why Premium excels in the Free version?
It is almost a week for me to subscribe to the premium version of Grammarly. The more I use it, the more I came to know what the free version lacks.
Although the free version corrects all your grammar, punctuation, spellings, no doubt, but this time, I'm getting more professional assistance from my regular grammar checker.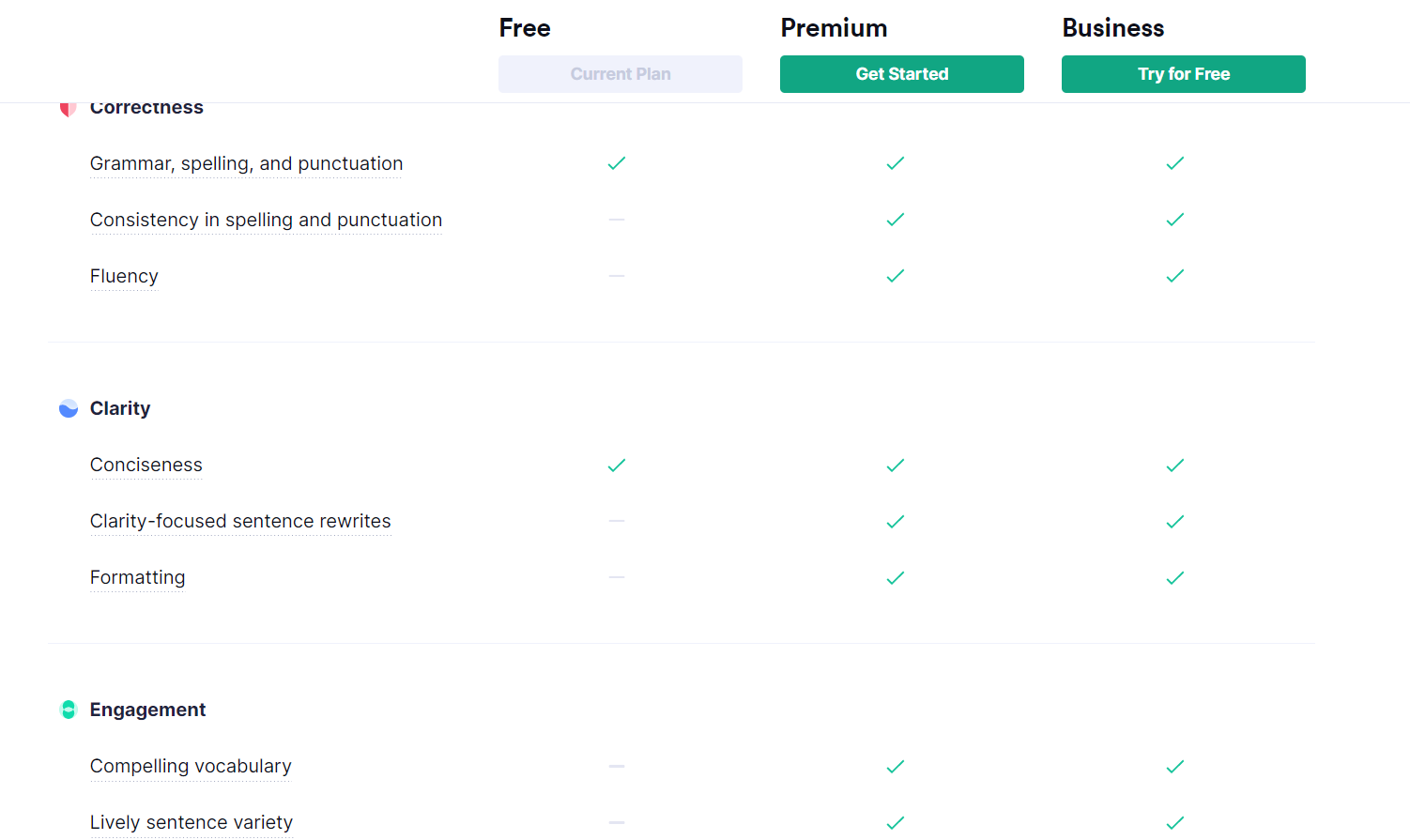 The inspection got precise, accurate, and more 'human-friendly as compared to the free version of Grammarly. It felt like an English instructor is checking my work and suggesting some final tweaks.
Who can use Grammarly Premium:
Anyone who wants to relieve themselves from the hustle of proofreading every single line of their written content can avail themselves of the free version of Grammarly. However, Grammarly premium can be most beneficial for:
Content creators
Copywriters
Content writers
Bloggers
Students
Businessman
Email writers
There are a lot of other professions that can benefit from the premium. However, these are the core ones.
Premium Plans:
Although the free version helps in most situations, if you are willing to spend a few bucks and upgrading your Grammarly game to the next level, then the plans available for you to go for are the following:
1) Monthly Subscription:
First on the list lies the essential monthly subscription to subscribe to Grammarly for one month only. The plan costs you most of around $29.95 per month.
2) Quarterly Subscription:
The other plan delivers a quarterly program that covers three months of a year. You can get this whole plan for $59.95 that you have to pay as one payment. In that case, the new monthly subscription charges are $19.98 per month.
3) Annual Subscription:
Last but not least, the annual subscription allows you to avail Grammarly Premium services for up to a year. This package costs you $139.95 as a one-time payment. In this case, you will get the lowest price per month, i.e., $11.66 per month.
Grammarly declares the annual package as the 'best value,' and if you ask for my opinion, it is the best subscription from my end as well. Not only will you be able to get the lowest per month rates for your Grammarly Premium, but you will also be able to live a tension-free year where you will not have to worry about the premium subscription getting expire after every month or quarter year. Although it is a one-time investment, it offers good value for money.
Although these plans are for individual-based usage, you can subscribe to Grammarly Premium exclusively for a team, which will cost you around $12.50 per month per member. This particular type falls in the Grammarly Business category.
Final Critic: Is Premium really a Necessity?
Finally, if you've come this far reading the article, it means that you're really interested in knowing the worth of Grammarly's Premium Subscription. So if you'd like to hear me go all critics here, I'd say that it's not really worth it… at least for me. But it is usually not the case with everyone. (More at this Reddit thread).
I find Grammarly's subscription quite expensive and, frankly, out of budget. For a college student like me, it is a part of your expense that requires your dedicated attention along with a hefty amount of budget. Although you get many perks and it makes your work easy and convenient, I feel that paying this much only for this convenience is not worth it.
But just as I said before, the worthiness varies from person to person. For a person who can generate quite a particular amount at the end of the month to spare a few bucks for the subscription, I suggest that the Premium is a must for them. It can ultimately save you a lot of time by offering all the grammar, punctuation, sentence structure, plagiarism detector, and readability at once.
Again, it is for people who have a lot of workflow around them. It is for the people who don't have time to spare to check each and everything individually and on different platforms. I mean, all you pay is for the convenience, and it is really worth it if you put it that way.
As I can't afford the full account for myself, I've bought a shared account along with my friends that helped us all get a grip on the premium. That means we can use our turns to utilize the facility of the premium. I know it's a hectic way to do it, but it still saves us in the nick of time even after this struggle.
Again, as mentioned above, it simply enhances the quality of proofreading by proposing more critical suggestions, more detailed analysis, and more relatable options than what you get in the free version. So if your pocket allows it, it is definitely a tool you must have while composing any written content.
FAQs:
1) Is there any Grammarly premium free trial?
Grammarly doesn't offer a trial period for its premium package. However, you can experience the free version to get to know what it is capable of.
However, Yes, there is Grammarly premium free trial for business.
You can avail a free premium trial period if you are supposed to go for a team subscription for Grammarly.
2) Is Grammarly good?
By far, Grammarly is the best grammar checker tool that offers a lot of other facilities like plagiarism detector, spelling checker, and readability improver. Suppose you have regular interaction with composing written content on your laptop, PC, or even mobile phone.
In that case, you must consider installing Grammarly as a helping hand to improve your content in a short time.
3) Difference between the free vs. the premium version: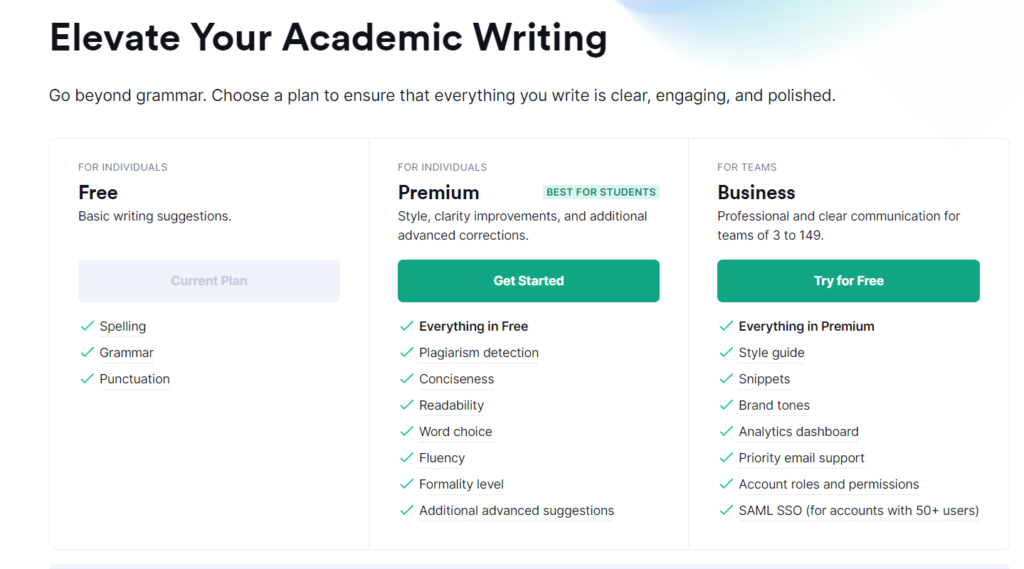 You will get the browser extension, Plugins, and Desktop app in both versions. However, you'll be able to get more critical analysis, more specific writing style checks, and a plagiarism detector that can check the content from more than 16 BILLION websites!