Writer's Work is a place where writers can end up finding some type of paid work.
While the site itself doesn't hire or pay any writers. It connects them with various publications that might actually need their services.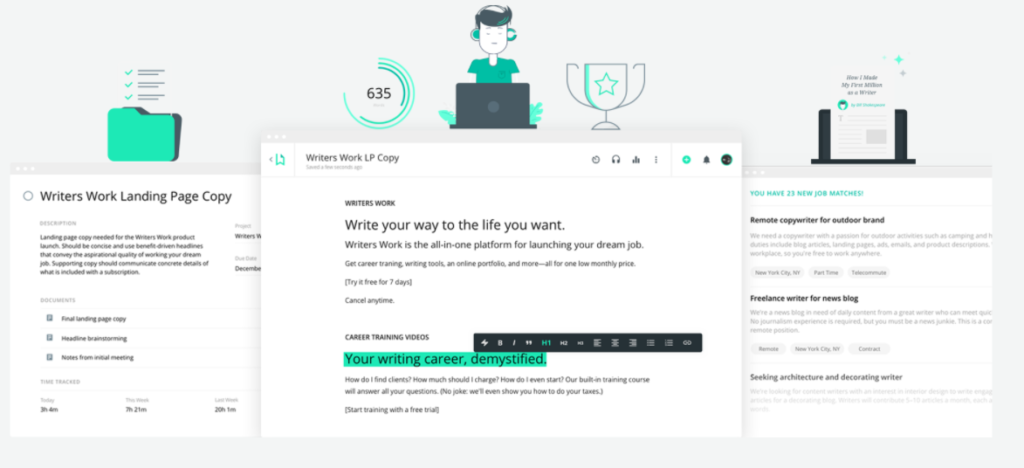 These are essentially freelance gigs, and they can often pay really well if you build a decent enough portfolio.
The platform has more to offer than just gigs. Get more value from it if you have multiple design tools like grammar checker and online editors.
Writer's Work Review
In this Writer's work review, we examined all the pros and cons of the Writer's work, Here are my thoughts which answers if it's viable for invest time.
Fees, Refunds and Trustworthiness
A lot of people wonder if this service is truly trustworthy. During the company launch, it has surrounded by such controversies.
This controversy comes from the service requires a one-time payment. If you want to gain access to the platform, and the company is offering an "early bird discount" of fifty percent that brings the payment down to $47 instead of $94.
A lot of service providers that ask for payments like this and offer supposed early bird discounts are often scams. Since they are trying to squeeze as much money out of writers as possible.
But in the case of Writer's Work, it's safe to say that things are a bit different.
The discount doesn't seem to go away from the looks of it and is most likely just something that the platform offers to sweeten the deal.
What's more, is that the company offers a 30-day refund policy. What many writers have said they didn't have trouble getting their money back if that was what they wanted.
Hence, we feel that it's safe to say that Writer's Work is not a scam.
The pricing is pretty reasonable when you compare it to other platforms that might be out there. It is a one-time payment so you wouldn't have to worry about money going out of your account on a monthly basis.
How to Qualify and How Much You Can Earn
You don't need any qualifications to set up an account on the platform, all you need to do is pay the fee.
However, your qualifications might impact the kind of work that you can acquire from various clients. Earnings can vary greatly based on the level of experience that you have. Most newbie writers will be able to earn a decent $20 an hour, which is a fair starting off point.
It can help them have better established higher-paying work in the future.
The upper limit of what you can earn is about $100 an hour, but suffice it to say that you will need to be very experienced and skilled to qualify for this kind of work.
A more reasonable upper limit would be around $65 per hour which most writers can attain by bidding for this kind of work.
One thing that you should keep in mind is that your income will depend on how much work is available in the first place. So you should try to balance out dry periods with higher-paying projects if you can manage them.
User Interface and Features
As we have mentioned above, this platform offers a number of really interesting features that writers can take advantage of.
The central area of your account on the platform would be the dashboard. We liked the clean and simple design that is being offered here.
The minimalist aesthetic facilitates ease of use which can help writers focus on the task at hand rather than getting distracted by things that are not entirely relevant.
This also helps the site's pages to load quickly. If there is one thing most writers can agree on it is that long loading times can be a major source of frustration.
The first important feature that we would want to comment on is the text editor.
Doing jobs and finding gigs is convenient. The text editor helps you maintain a much higher quality of writing as well.
The text editor contains a number of standard word processing features such as a word count and formatting options.
One such feature would enable you to track how long it would take a reader to finish reading your article. Another feature can track the amount of time that you have spent on a particular project.
This is particularly important if you are being paid on an hourly basis. Since it would simplify the billing process and help you manage your time a lot more effectively too.
Another use for these trackers involves generating a readability score. It can help you see if you are catering to your target demographic effectively enough.
Furthermore, the text editor enables you to find synonyms or other alternatives to a word that you might have used if you highlight it, and definitions are provided as well in case you are using a word that you are not altogether familiar with.
At the $47 pricing tag, we expected to see a plagiarism checker. But the features that are provided are definitely adequate.
You can also incorporate extensions from third parties like Grammarly for grammar checks and the like. This creates a complete writing experience. It really is quite impressive to see Writer's Work be so thorough in this regard.
Other services offer similar types of features to an extent, but the fact that Writer's Work includes them as well makes the platform seem a lot more legitimate.
One feature that we feel deserves a lot of attention is the training program that Writer's Work offers. The "University Library" on the platform offers quite a bit of learning content.
New writers are able to gain a lot from it. Since they usually need resources that can offer them a bit of training.
The content is well presented and informative, and even experienced writers can find something of value in them.
Finding Work on the Platform
The main role that Writer's Work is playing is of a middleman. One that connects you to clients who are willing to pay you in exchange for the work that you do.
Hence, the kind of process that you need to go through in order to find work will definitely play a role in the kind of rating we would give this platform overall.
The platform certainly does pretty well in terms of quantity. Since there is never a shortage of job listings that you can apply for.
The search engine for the jobs is fairly impressive since it allows you to narrow down your options with the use of keywords.
For example, to find work geared toward beginners, add the relevant keywords into your search query and you would end up seeing a whole list of jobs.
Hence, at first glance, it would seem that writers might be spoiled for choice when they start taking advantage of this platform.
That said, it should be noted that none of these jobs are exclusive to the platform itself.
Rather, the platform compiles jobs from a variety of sources such as Problogger and shows them to you in one location.
The platform allows you to pick job sources as well it indicates a failed attempt at becoming a job listings site themselves.
Also, a lot of the jobs that you would see would either be too low-paying or high requirements, so new writers might find it tough to get their foot in the door.
Conclusion
As a writer, one of the most difficult things to do is to acquire a stable source of income. The way that writing works is that you don't really get a salary most of the time.
Rather, you need to earn money on a project-by-project basis. Finding a steady stream of freelance work is quite crucial since it can help you focus on various passion projects and the like.
All of that said, does this mean that Writer's Work does not provide you with enough quality job offerings? Not exactly.
While the platform is clearly going for a quantity over quality approach. A bit of digging will find you enough jobs as you gain experience.
The fact that the postings are from other sources is a bit disappointing. But it does create a central location from which you can find gigs.
The fact that you have a profile on this platform will also help you streamline your work process to a certain extent.
The price is definitely reasonable. Especially when you consider that there are platforms that ask for just as much if not more.
What's more, is that the text editor is quite a special feature that can provide a bulk of the value for the asking price.
It doesn't go far enough in terms of writing optimization as the lack of a plagiarism checker above.
The text editor is decent enough to start earning money through doing online writing jobs.
To conclude the Writer's work review:
Overall, we feel that this platform deserves a 7/10.
The writer's work tends to stoke the expectations of newbie writers by promising a lot more than such writers might be able to get.
But this doesn't change the fact that this is a pretty decent place to start your freelance writing career.